I love animal sanctuaries and I follow a lot of them online. Going to LA was a blessing because I knew there were at least two animal sanctuaries there. Due to the time we had there I could only choose one to visit. I chose the right one. The Gentle Barn. Never had I visited a place before where I just felt at ease the moment we drove up at the parking lot. Directly after meeting the first person of The Gentle Barn at the check-in we received a hug (because we just got married and decided we wanted to visit The Gentle Barn during our honeymoon). Awesome! I felt at home here, save and loved in the first second we saw The Gentle Barn sign. Curious why?
Directly after the check-in we received our second hug from Christina, one of the most bubbly and positive people who I have ever met. And she took a picture of us to show Ellie Laks (the founder) that there were honeymooners at The Gentle Barn. Christina told us how she started as a volunteer. She fell hopelessly in love with the goat she sponsored. After reading the book My Gentle Barn that Ellie wrote she was devoted to be part of The Gentle Barn family.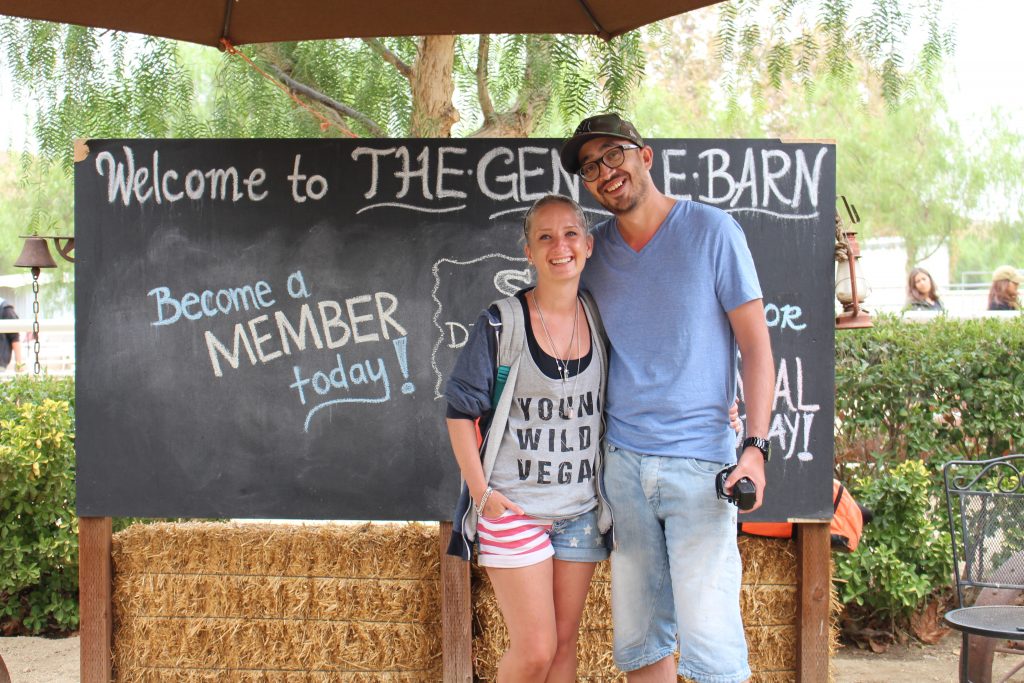 Ellie Laks founded The Gentle Barn in 1999; it was a dream of hers since she was seven years old. Animals were always very healing and nurturing to her as she faced the challenges of growing up, finding herself, fitting in, feeling understood, etc. She majored in special education and psychology, and with her special love of animals and children, The Gentle Barn was a perfect way of putting all her talents and passions into one.
"There is nothing more fulfilling to me than looking into the eyes of animals and children, who have no chance, telling them with certainty that they will be ok and then watching them go through the healing and growing process and coming out the other side and watching them become ambassadors helping others who are in their old shoes. It is what I live for each and every day." –Ellie
Jay Weiner joined The Gentle Barn in 2002 as a volunteer, but fell in love with the place and the two joined forces to heal even more children and animals together. Like Ellie, Jay also turned to animals for the support, love and nurturing he needed as a child.
The Gentle Barn started on a half-acre property in the middle of the San Fernando Valley, CA. In 2003 Ellie and Jay moved The Gentle Barn to a six-acre paradise in Santa Clarita, CA. The property is complete with large horse and cow pastures, a red and white barnyard for the smaller animals, an organic vegetable garden, lots of shade trees, and a panoramic view of gorgeous mountains. Their over one hundred and seventy rescued animals are safe and happy at The Gentle Barn, and there is plenty of room to welcome their visitors and the children they host.
In 2015 The Gentle Barn opened it's second location in Knoxville, Tennessee. It is their goal to open Gentle Barns in every state so that everyone in America can hug a cow, cuddle a turkey, give a pig a tummy rub, look into the eyes of these animals and know for certain that we are all the same, and deserving of the same rights, respects, and freedoms. Since its inception, The Gentle Barn has been home to hundreds of animals and host to over 400,000 people.
The Gentle Barn is currently located in Los Angeles, California, Knoxville, Tennessee, and St Louis Missouri. It is open to the public once a week for guests to hug the cows, give the pigs tummy rubs, cuddle the turkeys, feed the horses, hold the chickens, and learn their stories of resilience. During the rest of the week The Gentle Barn is available for private tours, VIP all day tours, school field trips, birthday parties, groups of at risk, inner city, and special needs kids, and special events.
Why you should visit The Gentle Barn.
If I hadn't convinced you yet, please take a look at the different links you find in this blog. They all refer (except for Ellie's book) to the website of The Gentle Barn. There is a lot of information there. You will also find all the rescue stories of the animals living their lives at The Gentle Barn. They are impressive and it's almost impossible not to cry because there are much more lives that have to be saved. But that's the thing with The Gentle Barn. The focus isn't on the sad story, it's on the fact that with care, love, affection and help each animal finds their way to a new loving life where people aren't monsters but loving creatures as well. I find that is an art. The Gentle Barn and all the animals and people, taught me so many beautiful lessons in only one Sunday. This is heaven on earth. Hopefully I can be part of it, maybe by opening The Gentle Barn in The Netherlands perhaps. I believe this is the path I should take because The Gentle Barn showed me how and why this is the way to stop the suffering of animals, which is my personal mission.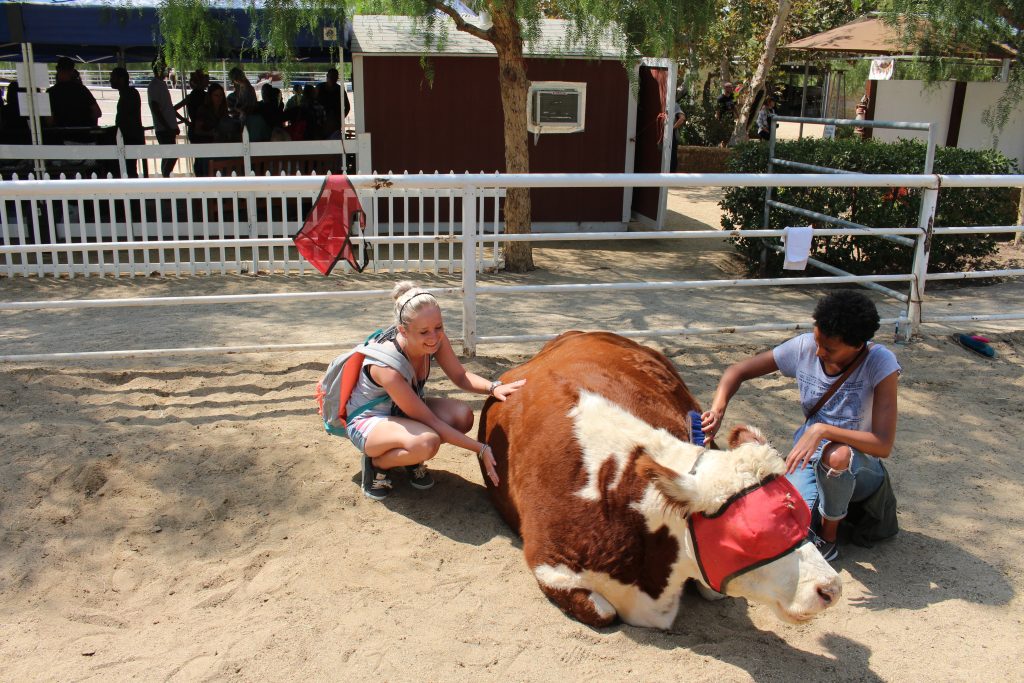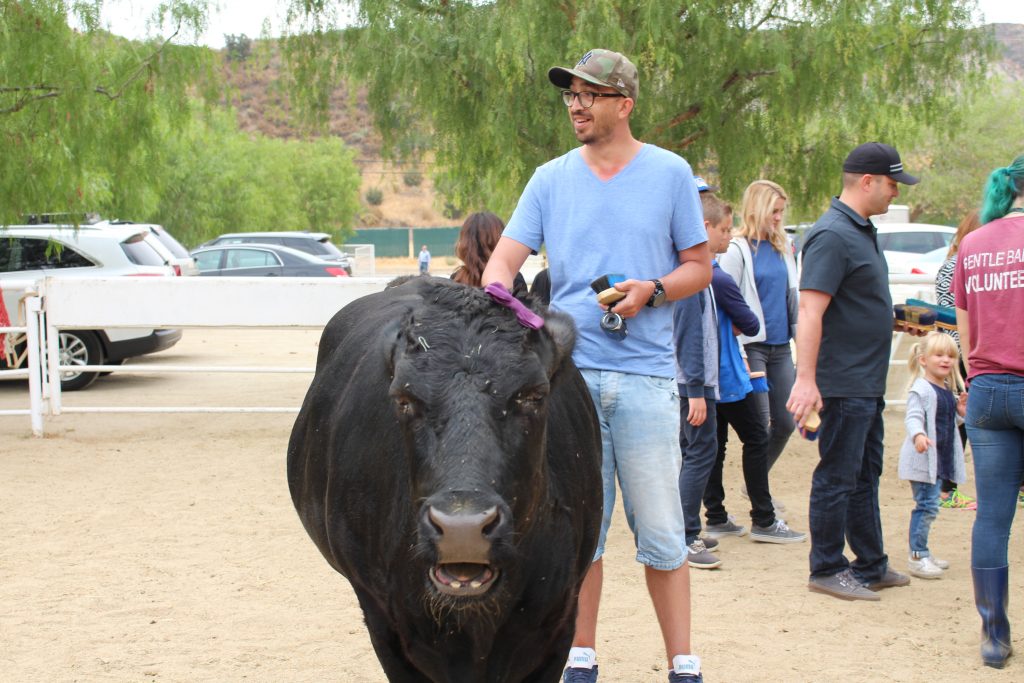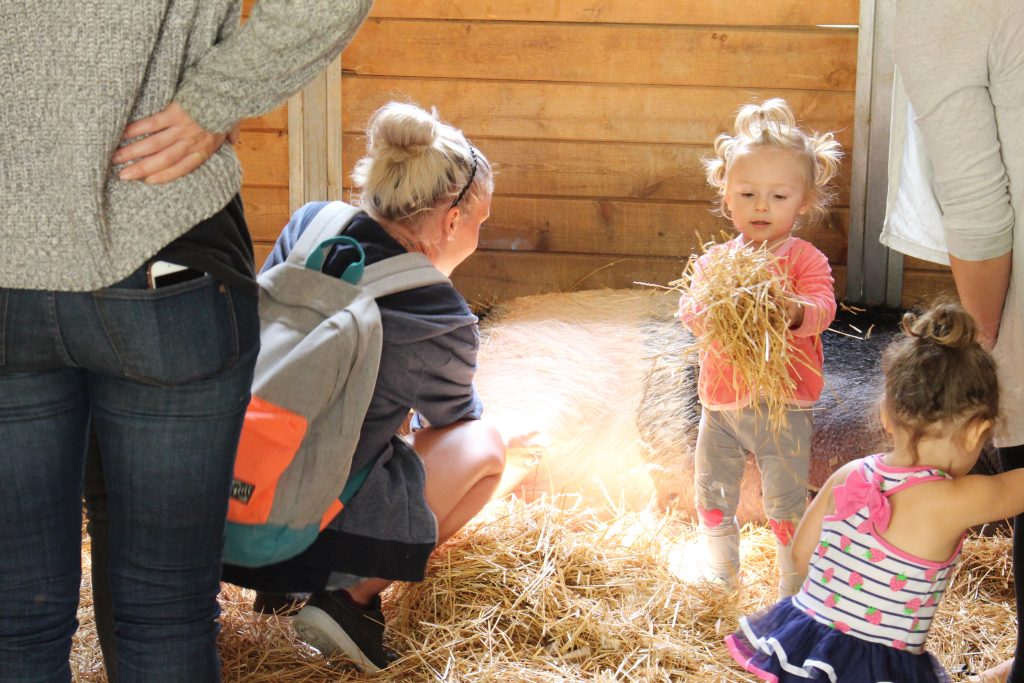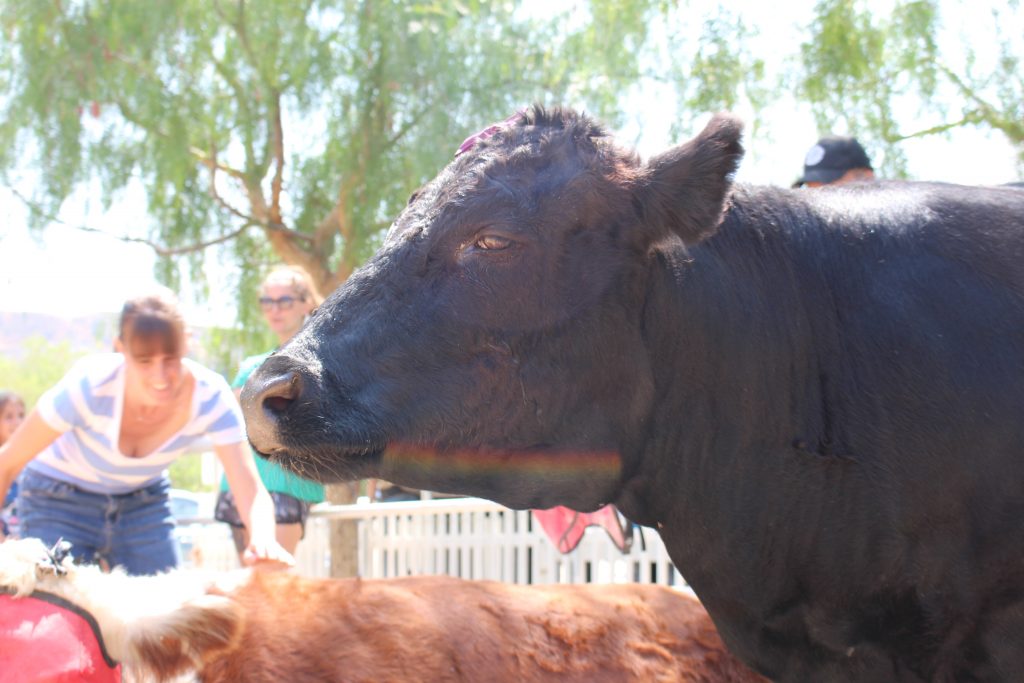 Why did I write this blog in English?
I'm Dutch, I live in Almere which is a place close to Amsterdam in the Netherlands. I have a Dutch vegan blog. I chose to write this blog in English because I believe people worldwide should know this story. Americans and all tourists should visit The Gentle Barn at least once in their lifetime. It's a complete loving game changer which gives you better karma almost immediately when you walk out of the gate because from that moment on you can't, and don't want to, contribute to any more suffering of animals.
---
Note: I have written this blog because I wanted to do it, not because someone of The Gentle Barn asked me to. This is my gift to Ellie, The Gentle Barn and all the loving people and animals. I feel like I have a new family and can't wait to see them all again. I'm so grateful and thankful. Truly blessed. Thank you all!
---